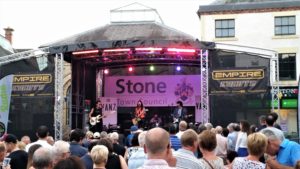 Following its success in recent years, Stone Town Council are again organising a free music event in the town on Saturday, 13th July 2019.
With the help of volunteer Tony Hollinshead a full programme of entertainment has been arranged between 10:00am and 9:00pm, including:
• Busking Competition (entries still being accepted)
• Christ Church Academy
• Rooftop Studios (stage and street performances)
• Songwriters Showcase
• Emergency Call
• Nixon Tate and the Honey Club
• The Good Sinners
The event will be held on a stage set in the town's Market Square.
Councillor Jill Hood, Chairman of the Council's Tourism and Town Promotion Sub-Committee said: "The Stone Music Festival is free, and combines performances by talented local musicians and professionals from further afield. The inclusion of the Rooftop Studios also offers something a bit different this year. Don't miss what promises to be a fantastic time on Saturday July 13th, beginning at 10:00am! Between acts you can also take time to browse the town's unrivalled selection of independent shops and eateries for a great day out."
More information is available on the music festival Facebook page @stonemusicfestival.