Councillor Jonathan Powell
Biography 
I was born in Nairobi Kenya while my father was serving with the British Army. In my early years we lived in a number of different places in England and Germany but finally settled in Stafford, which was my father's hometown. I attended Walton High School in my teenage years, then Stafford college. I spent a short time in the Army before attending Wolverhampton University and pursuing a career in the Hospitality industry, starting in London with the Forte Group and then later moving into the events Industry. I was working for a Stone based events company which brought me to Stone in 1999. Then in 2018 I decided on a change of direction and so went to work for JCB at the Headquarters in Rocester, Staffordshire.
I have been married to my wife Nancy for 14 years, and have 3 grown up children, Benjamin, Joseph and Elisabeth. And not forgetting my dog, Bear.
I have been involved with Stone Rugby Club, sitting on their committee and coached them for 7 years. I was elected as a councillor for Walton North in 2019 and have been honoured to be chosen to be Mayor in 2021/22 and again in 2022/23. I am focused on joining all the residents of Stone in working hard to keep the town a much-desired place for people to work, live and play, no matter anyone's beliefs or background. Stone's residents are the strength of the town and I hope I can be a part of that energy.
The Mayor's Charities
The Mayor's chosen charities are Stone Community Hub and Chuckle Productions. 
To find out about the work of the charities and how you can make a donation please click on the images here. 
Upon conclusion of the Mayoral year, all proceeds raised will be distributed as soon as possible after the end of the Mayoral term.
Money raised at the Annual Street Collection will be distributed straight after the event.
The Deputy Mayor of Stone for the year 2022-23 is Councillor Andrew Best.  
Deputy Mayor's Article – Poste of Stone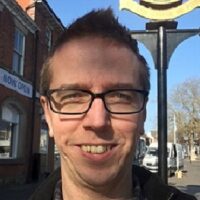 The Mayor's Chaplain is chosen by the Town Mayor and is appointed at the Annual Council meeting in May each year. The role includes leading prayers before Council meetings and participating in civic ceremonies.
The Mayor's Chaplain is Reverend Prebendary Ian Cardinal, Rector of the parishes of Stone, St Michael and & St Wulfad and Aston (by Stone) St Saviour.