Dear All,
As you will have seen in the news recently, there has been one confirmed case of the South African variant of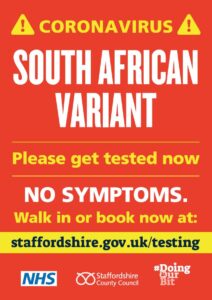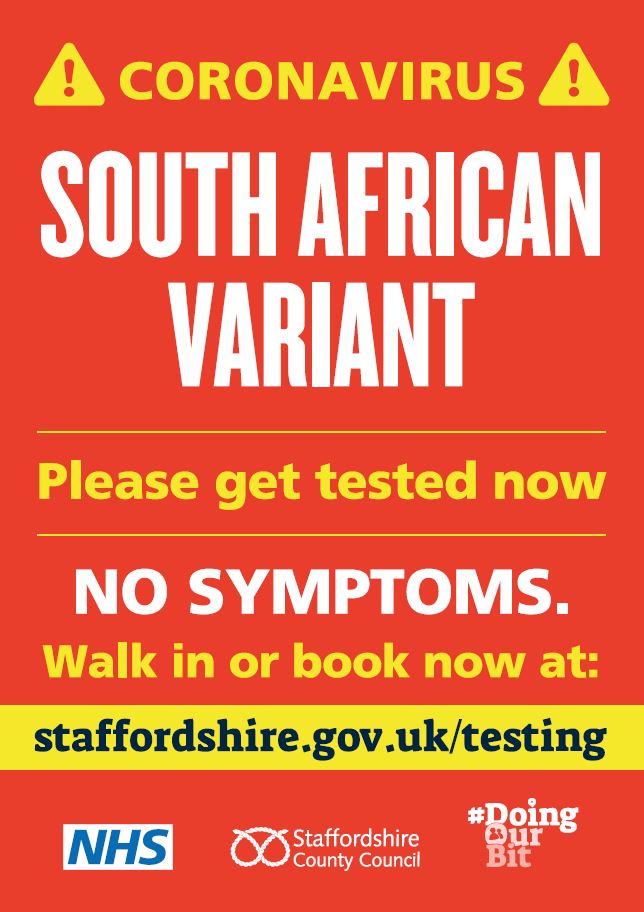 Covid-19 in the Stafford Borough area. This variant poses no greater risk to health, but it does spread more rapidly.
We must ensure as many people as possible in the Stafford Borough area who aren't currently displaying symptoms are tested. Testing is crucial to detect, isolate and stop the spread of the virus.
We have set up extra testing stations in Gnosall, Eccleshall and Stone for the next four weeks, as well as our existing community Testing centre in Stafford. We now need your help to get the message out to everyone who lives, works or studies in the Stafford Borough to urgently get a test at one of these venues.
Testing takes 30 minutes, and people can either book a slot online at www.staffordshire.gov.uk/testing or they can walk up to a centre on the day. 
Please promote these venues via your networks and social media channels. I have also enclosed some posters for you to put up in your public venues.
We have had a fantastic response from the community so far to our calls to get tested, with more than 2000 booking on for a test in the first few days. With your help, we can reach many more, and by doing so, continue keeping our residents safe. 
Yours sincerely,
Dr Richard Harling
Director of Health and Care
Staffordshire County Council
Dr Johnny McMahon
Cabinet Member for Health, Care and Wellbeing
Staffordshire County Council