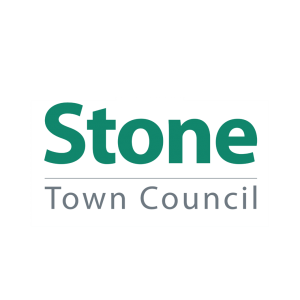 Social Media Code of Conduct
At Stone Town Council we want to it be as easy and convenient as possible to keep in touch with us.
The only social media platform Stone Town Council is currently using is Facebook.
The Stone Town Council Facebook page has been launched to keep you informed and engaged with news and events run by Stone Town Council. We're happy to help you in any way that we can and look forward to seeing your views and feedback. We do however expect our users to offer us the same level of courtesy that we offer them, so we've produced the following terms of use to benefit you, our employees, elected members and partners.
All users must comply with Facebook's Terms of Use as well as this Code of Conduct.
Contacting and engaging with us via Social Media
Our Facebook page is monitored as frequently as possible Monday to Friday during normal working hours (excluding Bank Holidays). As we do not monitor our Facebook page 24/7 we aim to respond to interactions appropriately and efficiently within a timely manner.
We may not be able to respond to enquiries during the same working day but will always respond as soon as we can. We will try to answer all reasonable questions as quickly as possible, but often need to consult colleagues from different parts of the council.
We will stop responding to conversations if we can no longer add value to the discussion. Please be aware it may not be possible to answer all questions asked.
Individual posts to the page from anyone other than Stone Town Council are disabled however anyone can post comments on our posts and we strive to answer queries as quickly as possible. Please note. you are wholly responsible for any content you post including content that you choose to share.
Interaction must be used for council related conversations only and we don't respond to inappropriate language or comments. We will remove, in whole or in part, posts which we feel are inappropriate and we reserve the right to remove comments, without notice, that we believe to be:
• Abusive or obscene
• Graphic, sensitive or offensive imagery
• Deceptive or misleading
• Discriminating
• In violation of any intellectual property rights
• In violation of any law or regulation
• Spam (persistent negative and/or abusive engagement in which the aim is to provoke a response)
Any accounts that repeatedly engage with us using content or language which falls into the above categories will be blocked and/or reported to Facebook.
We will also remove any comments that are an advertisement of products or services and comments that promote political parties without notice.
Comments of a personal or sensitive nature may result in us asking you to message us privately so we can request all the information needed to respond to your query efficiently.
Please take extra care when sharing personal information, such as addresses and telephone numbers. Personal details should NEVER be posted publicly on our page. Please contact us by private direct message or use email instead.
Comments/posts on our Facebook page by third parties do not imply endorsement of any kind from Stone Town Council. We do not automatically follow/interact with accounts that follow Stone Town Council. A follow, like, share or comment does not indicate collaboration, partnership or endorsement. We will follow like, comment or share posts, pages and organisations if the information is appropriate to our work.
Imitation
We will report and request removal of any social media profiles that are set up using Stone Town Council imagery (including fonts) and content without permission.
Feedback
Ideas and feedback are welcomed. We read all interactions and guarantee that any themes or suggestions will be considered.
We reserve the right to modify or change these conditions at any time