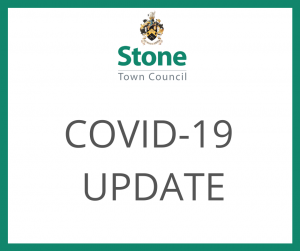 The Town Council are taking the current health crisis very seriously and have reluctantly decided to reduce or curtail a number of its activities in order to protect residents, Councillors and staff.
The Stone Station and Frank Jordan Community Centres will be closed from the end of this week until further notice. Limited provision from the Hub will continue at the Frank Jordan Centre, and users are recommended to contact the Hub directly for further information.
The Town Markets will continue to operate at present, and allotments will continue to be available.
Council organised High Street events will be cancelled up to the end of May 2020, and will be kept under review subsequently. This currently affects the St Georges Day and VE Day commemorations.
The Town Mayor will be withdrawing from all public events.
Council meetings will be restricted and amalgamated, such that only the minimum number of meetings necessary to perform the business of the Council will be held. The up to date position will be posted on Council notice boards and the Council website.
It is currently expected that the office will remain open during the public access times of 9:00am to 1:00pm, but face to face meetings are being discouraged.
Councillor Rob Kenney, Chairman of the Council's General Purposes Committee, said: "Whilst I am reluctant to curtail any of the Council's activities, the health and wellbeing of Stone residents must take priority. The Council will keep this current crisis under review, and return to full activity as soon as the situation allows."